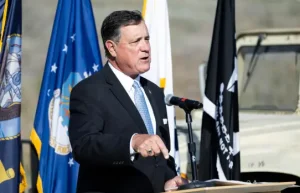 Orange County Supervisor Don Wagner is running for reelection in 2024 — in a district that will be at least somewhat new to him.
Wagner on Friday, Feb. 10, announced his campaign on the steps of the old Orange County Courthouse in Santa Ana where he touted his past achievements.
"As supervisor, I have embraced the challenges and solutions to build a better Orange County," Wagner, whose term ends in January 2025, said. "We were successful in bringing key parties together to build a state-of-the-art mental health facility, fund a veteran's cemetery in Anaheim Hills and improve public safety."
"We have had great success, but my work is not done. I'm here to build on the successes we have had to improve the lives of every resident of the 3rd District and all of Orange County," Wagner said.
---
Read the complete article at the Orange County Register